October 2019
_______ POETICS
_______ Poetics was a popup studio and happening focused on experiments and research within the practice of contemporary poetics.

During a one month period on Governors Island in NYC, artists and poets developed artwork, poetry, installations, performances, and printed matter.
Focal points of this work revolved around concepts of mindful poetics, sound poetics, visual and cinematic poetry, body poetics, eco poetics, and mutable text.
Featured artists, poets and writers included Seth Indigo Carnes, Simona Blat, Miriam Parker, Brian Chase, Charlie Stein, Patrick Meagher, Katie Willingham, Kip Miller, Khaula Malik, and Jai Hamid Bashir.
_______ Poetics was curated by Seth Indigo Carnes. The Imagination of Space was sponsored by The Cooper Union. The space was provided by Governors Island.

DOCUMENTATION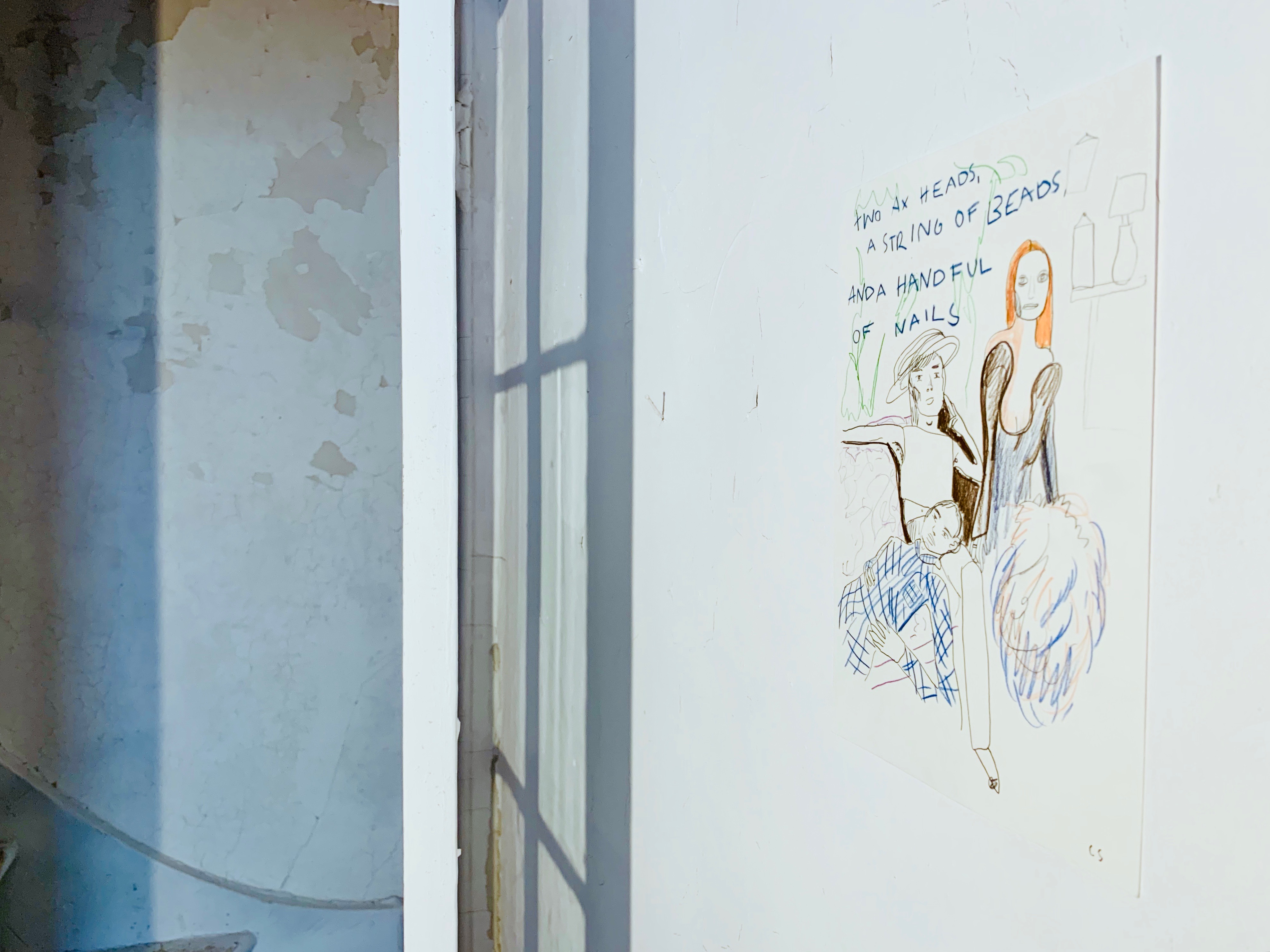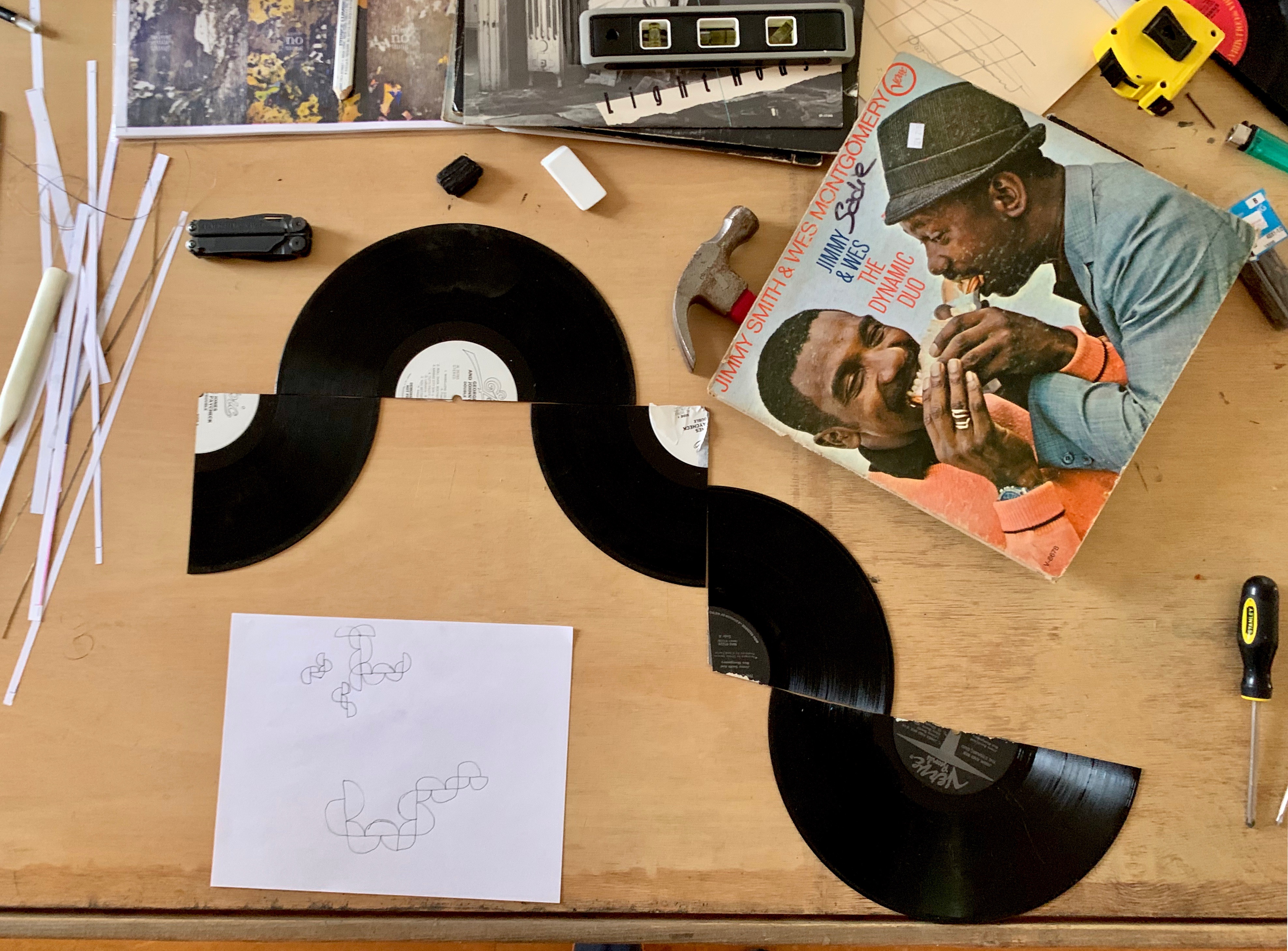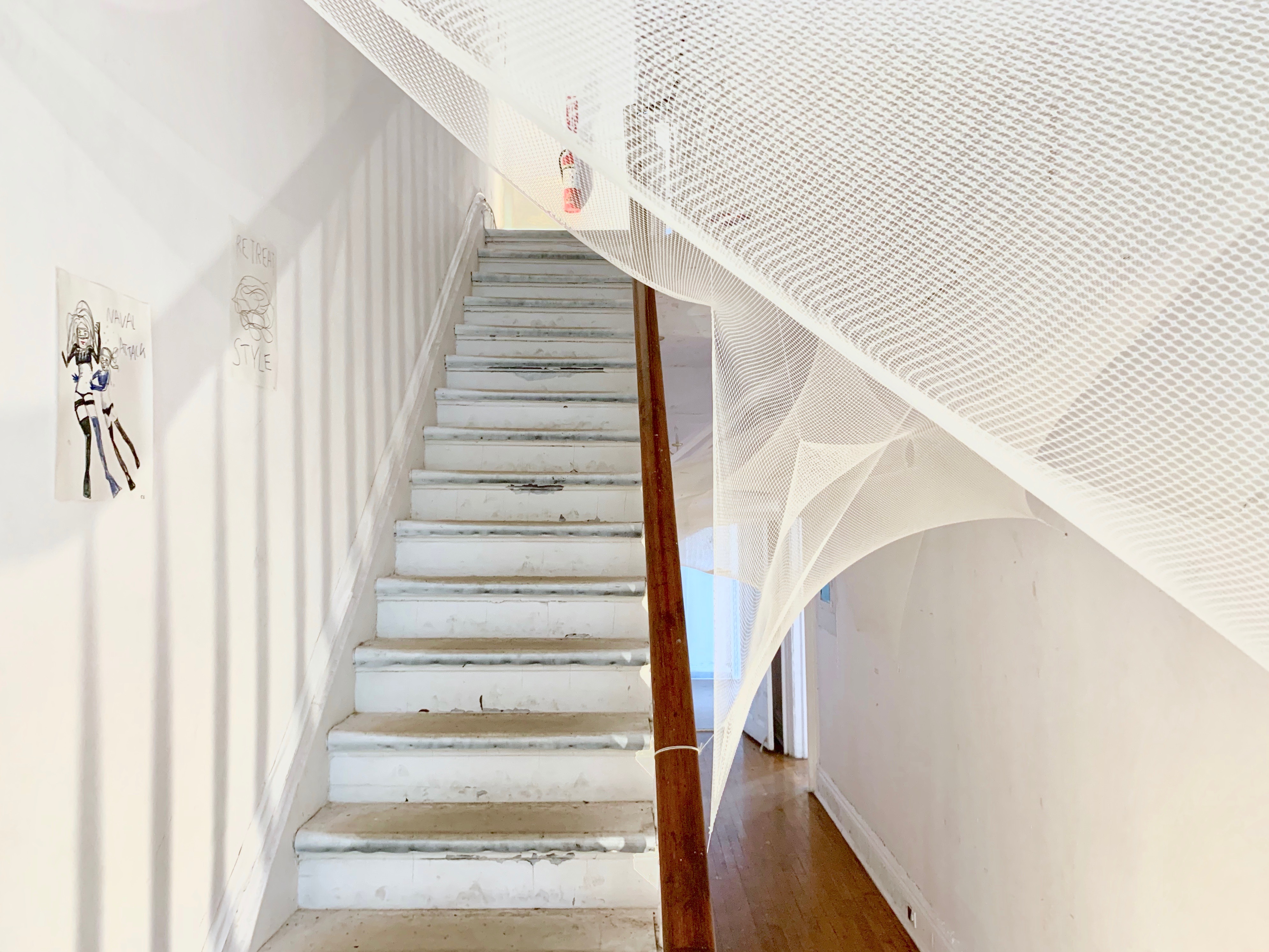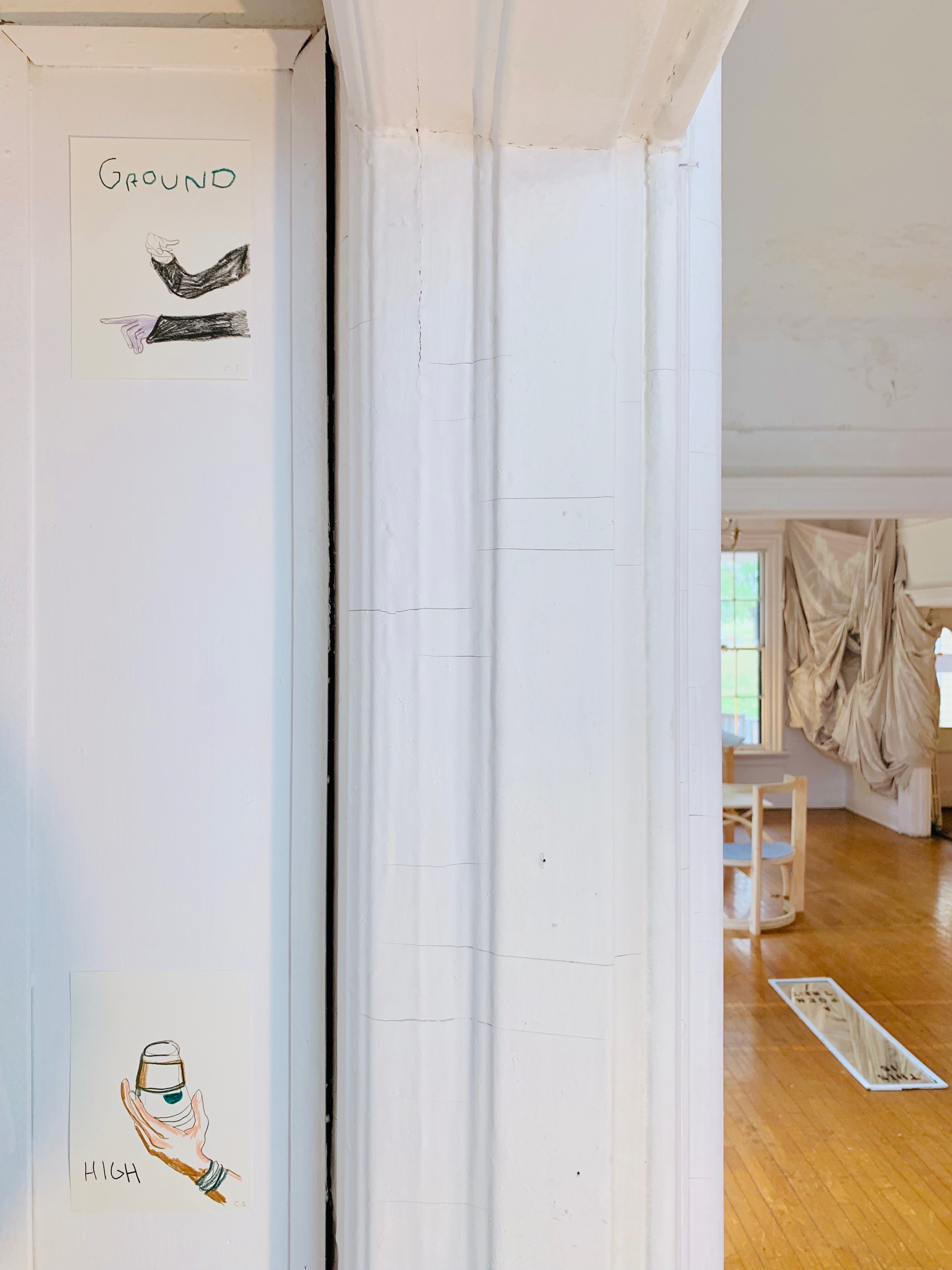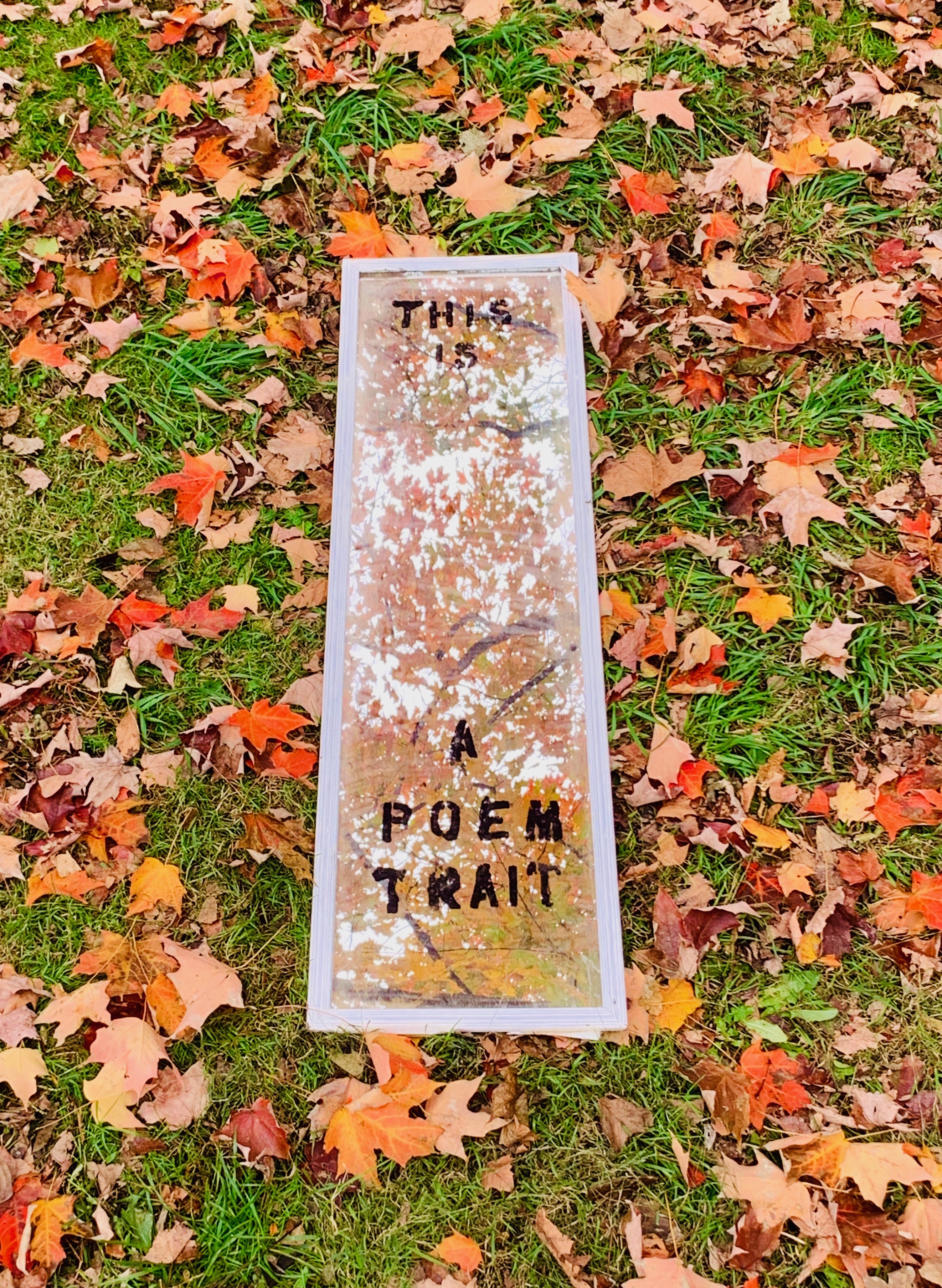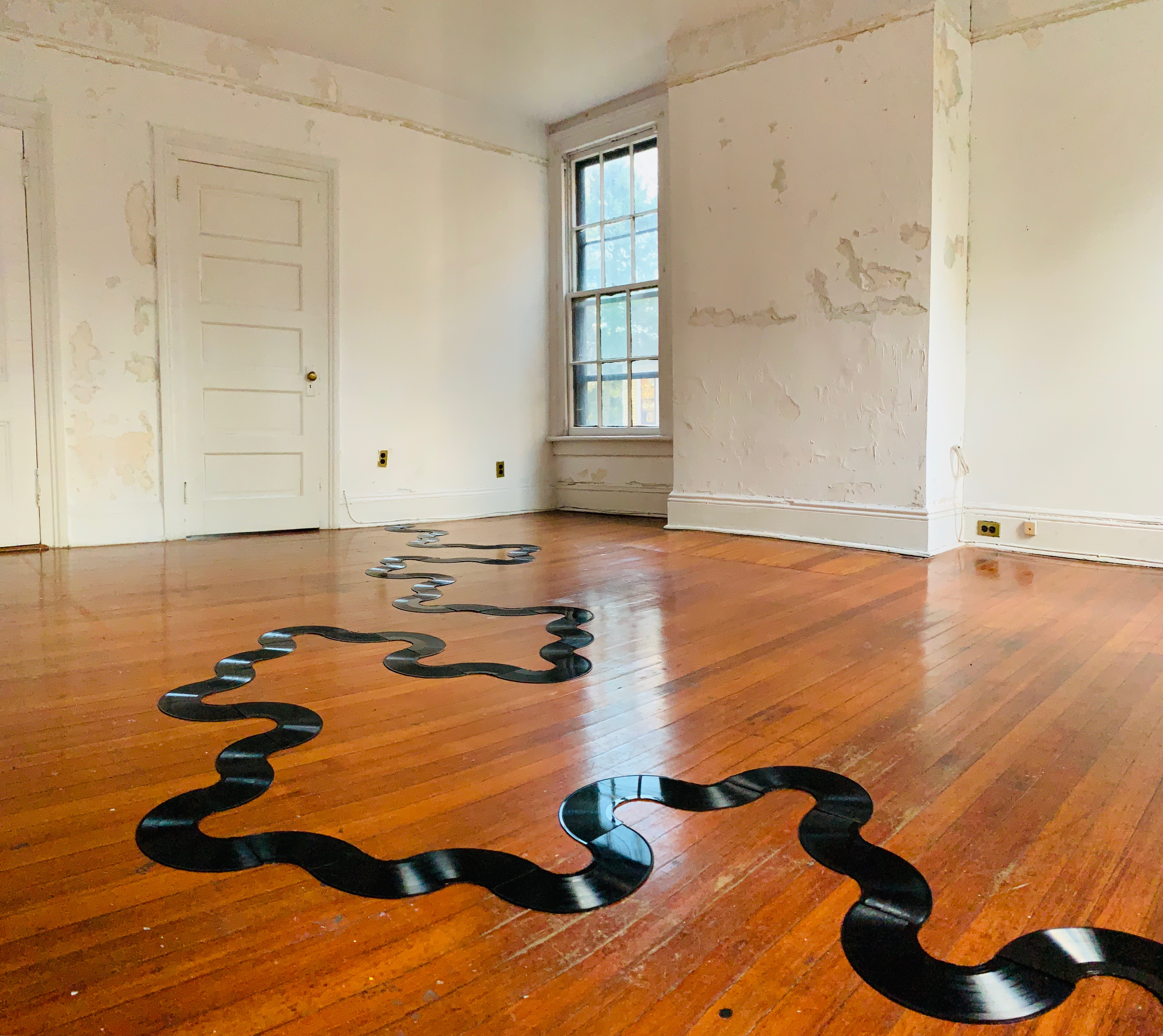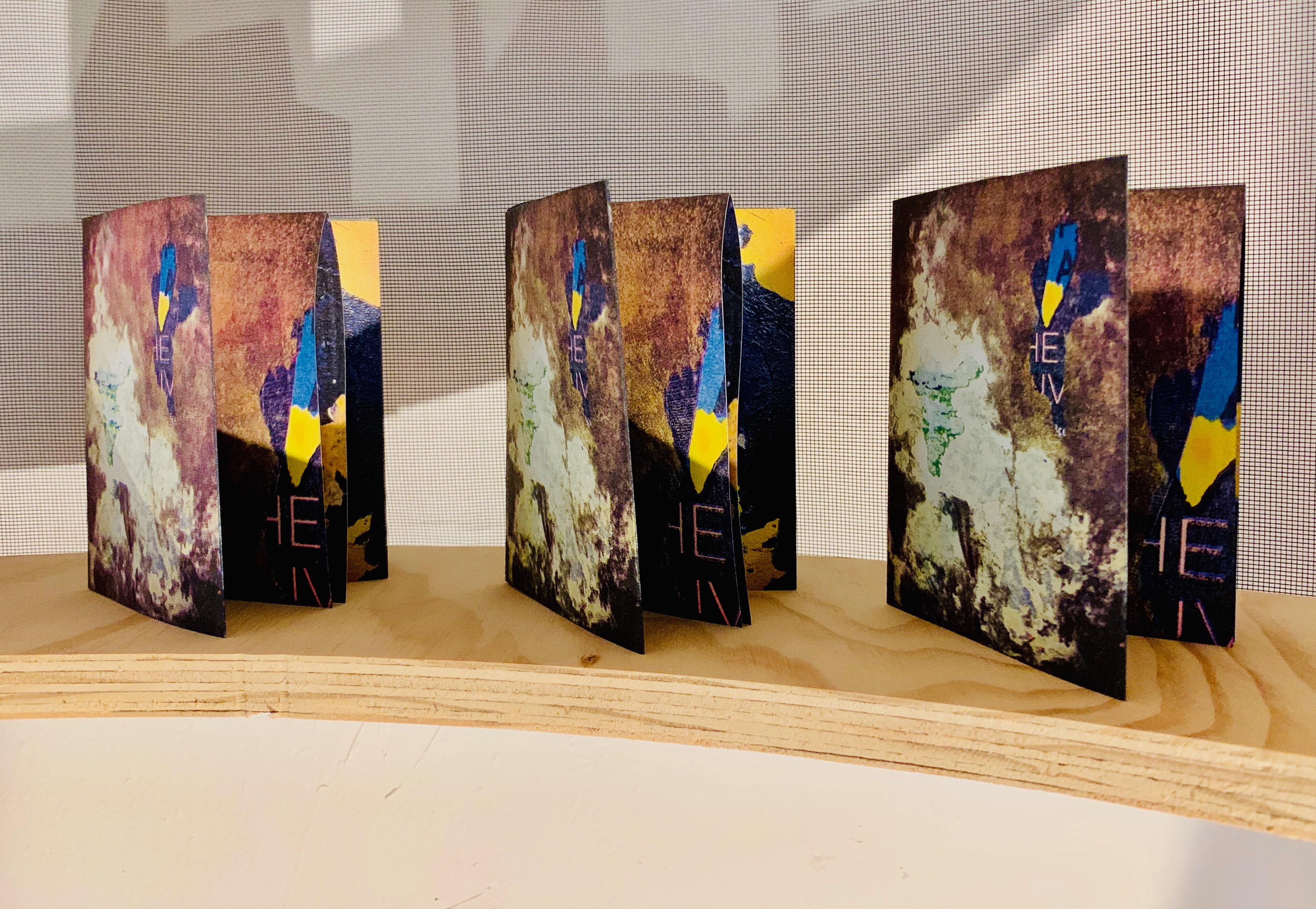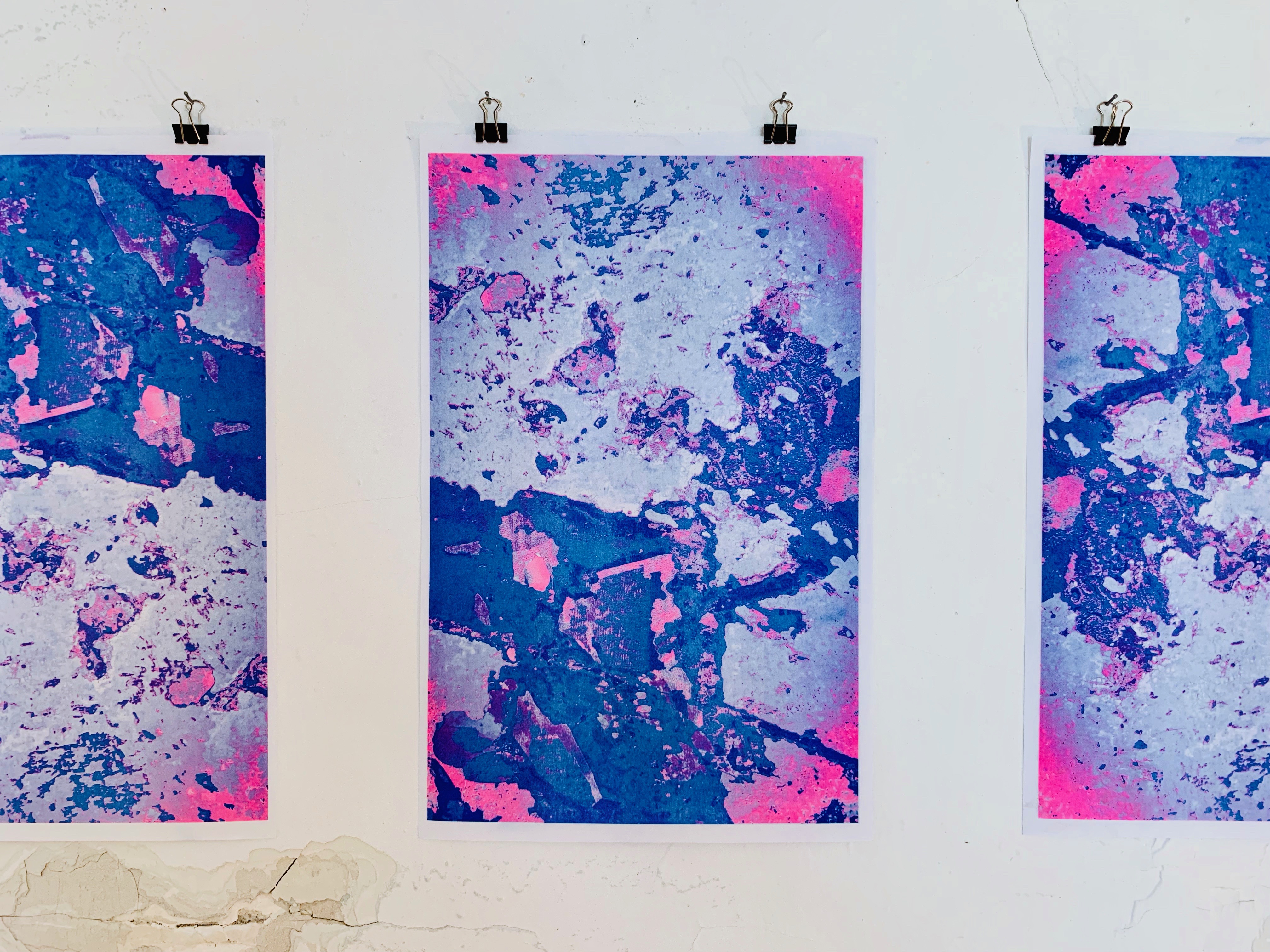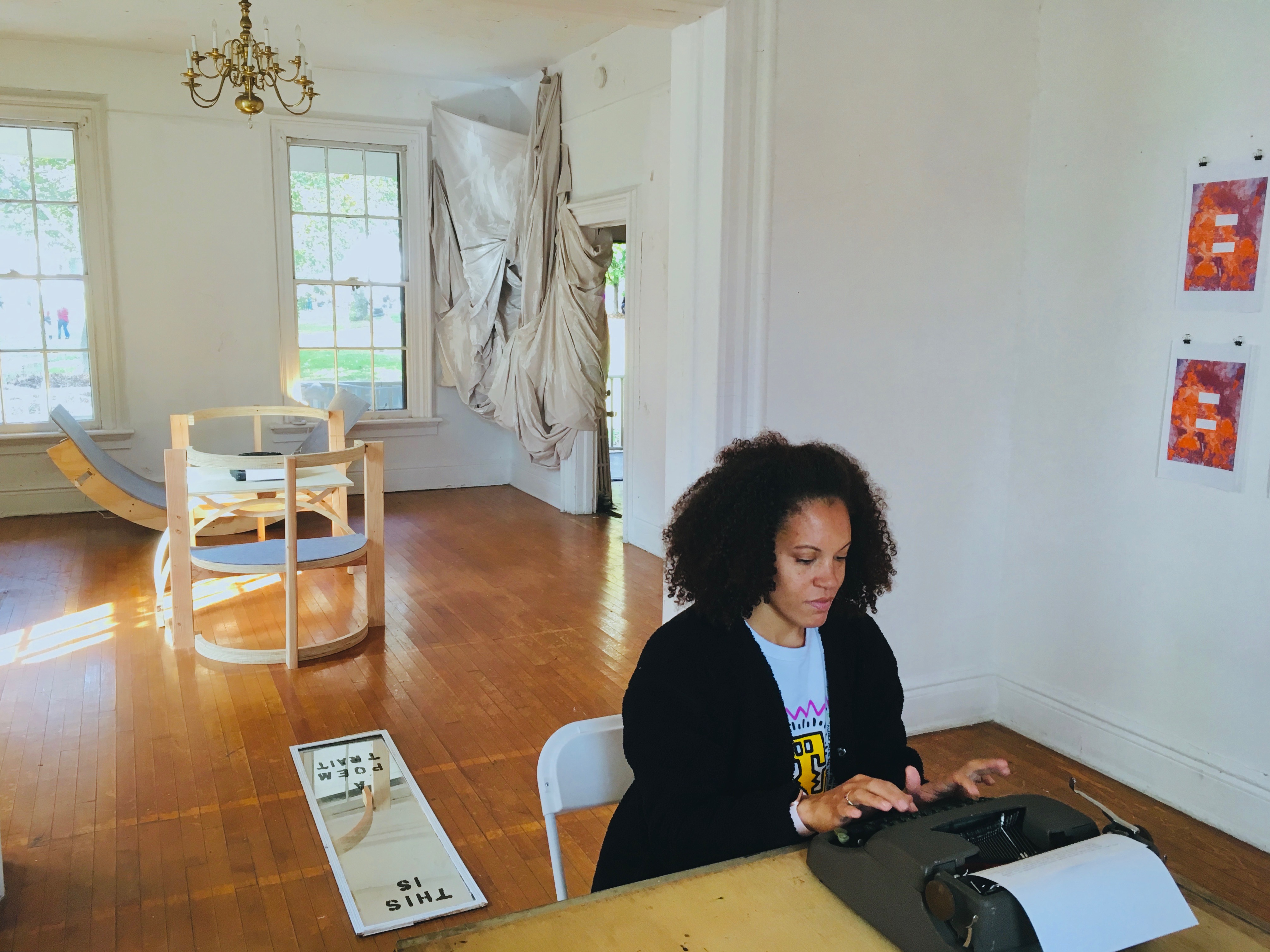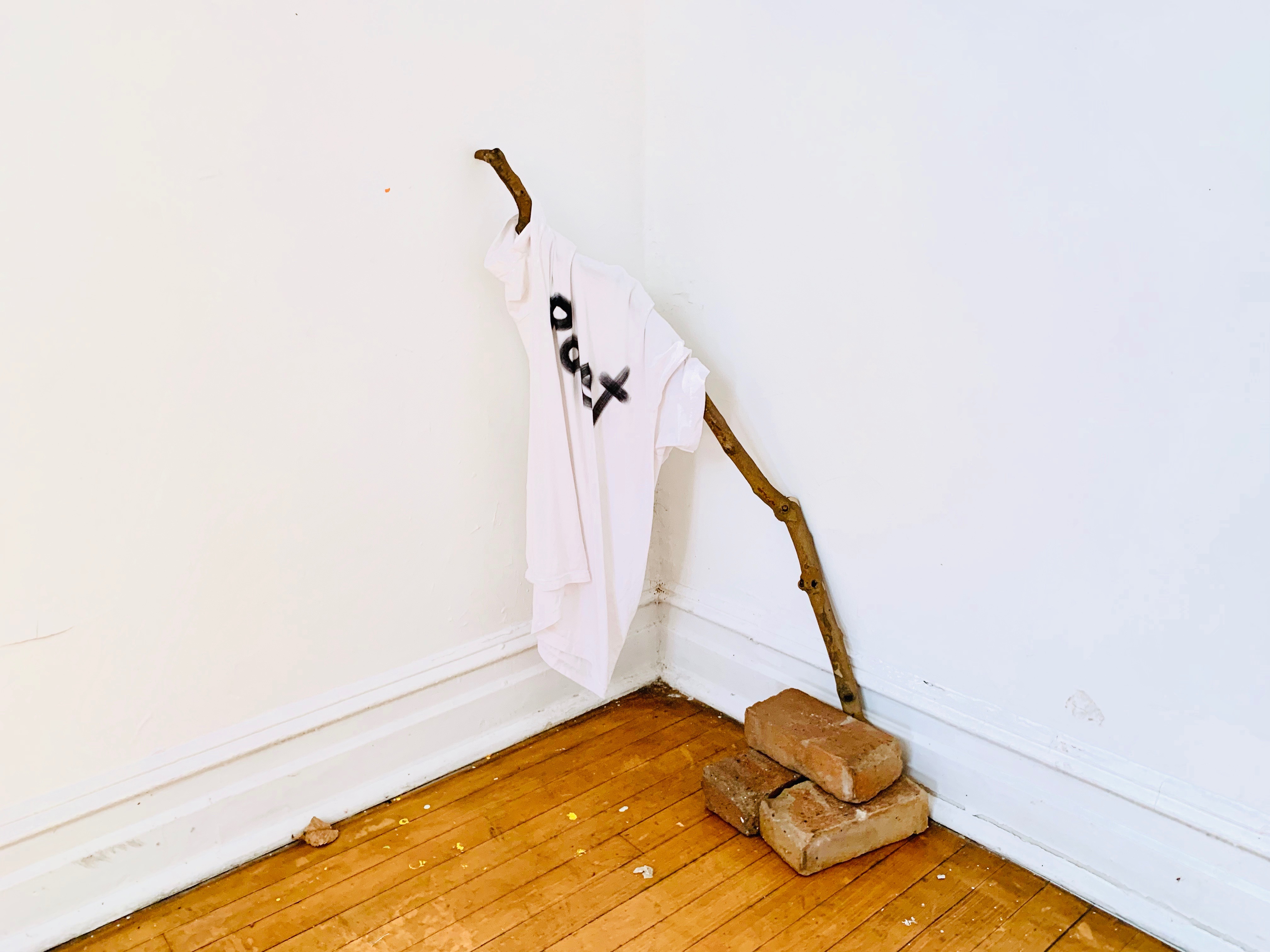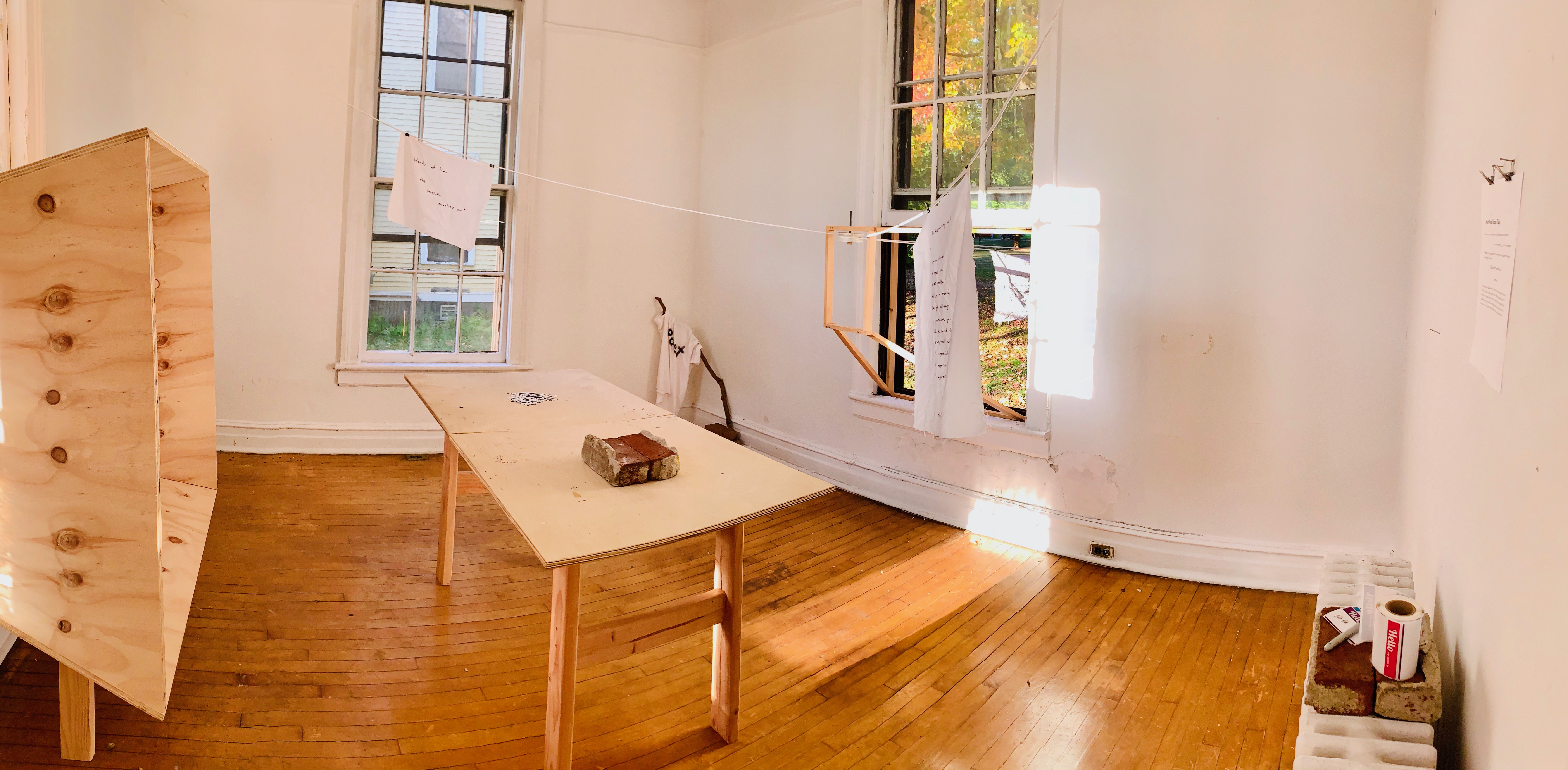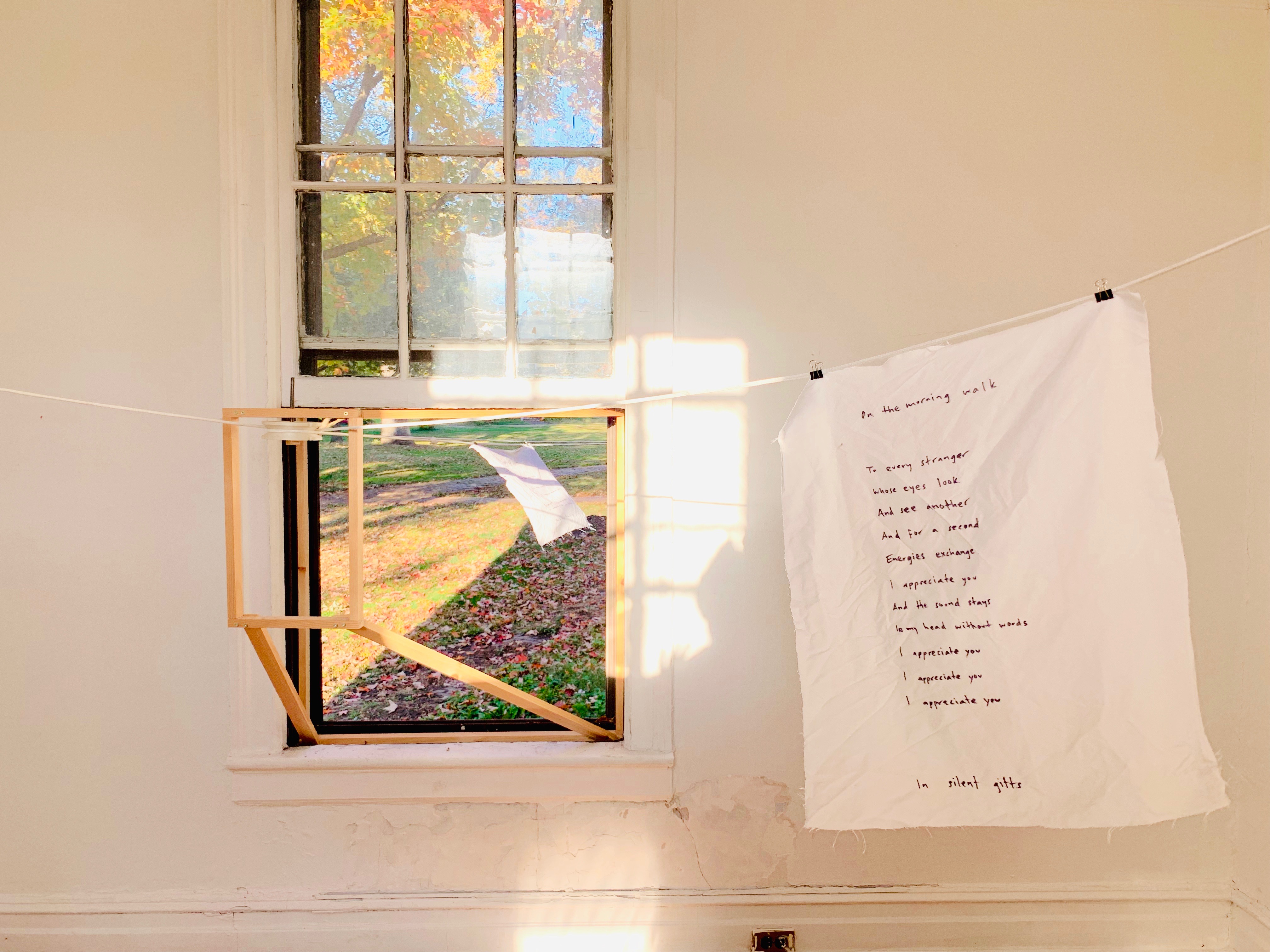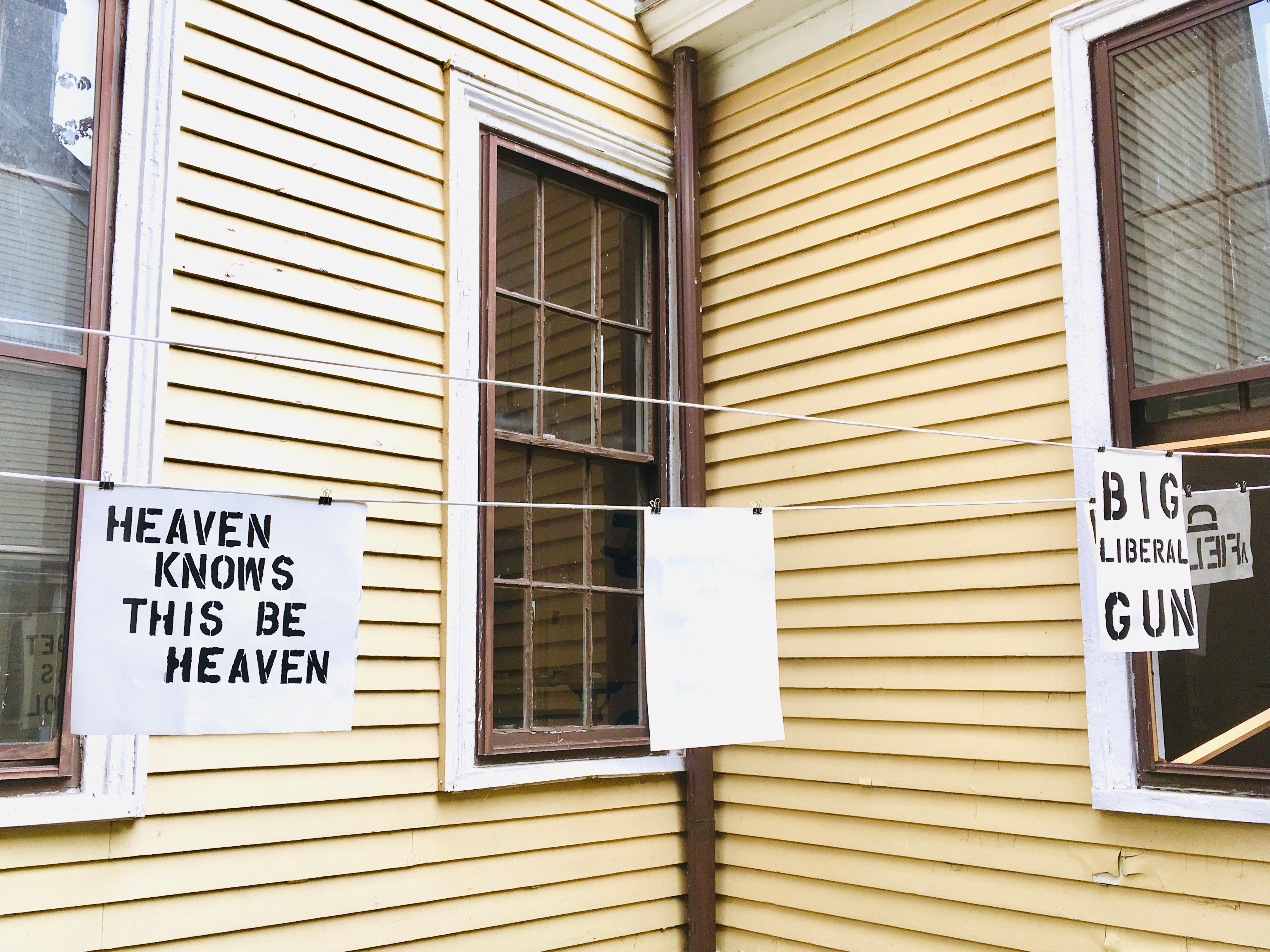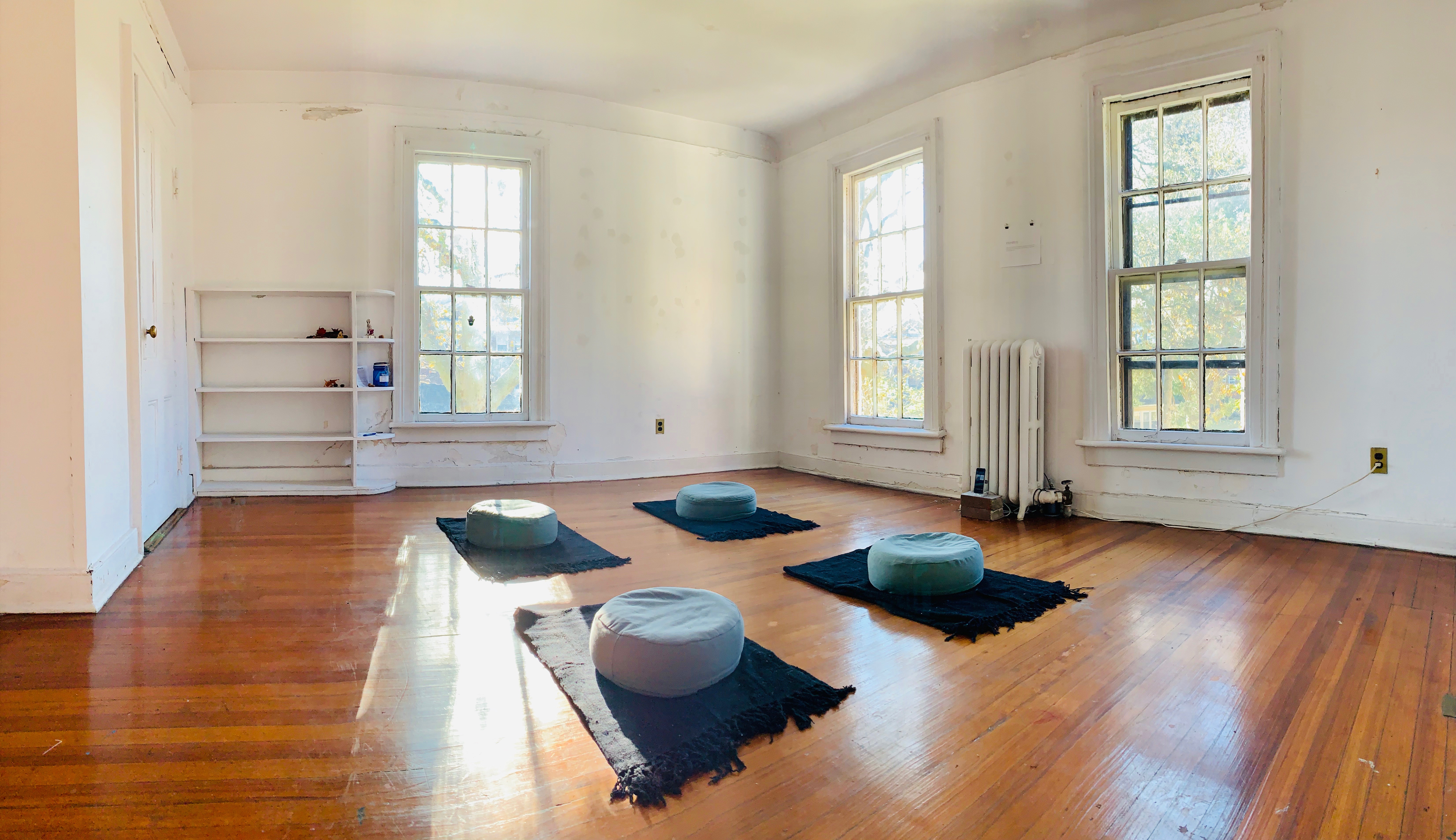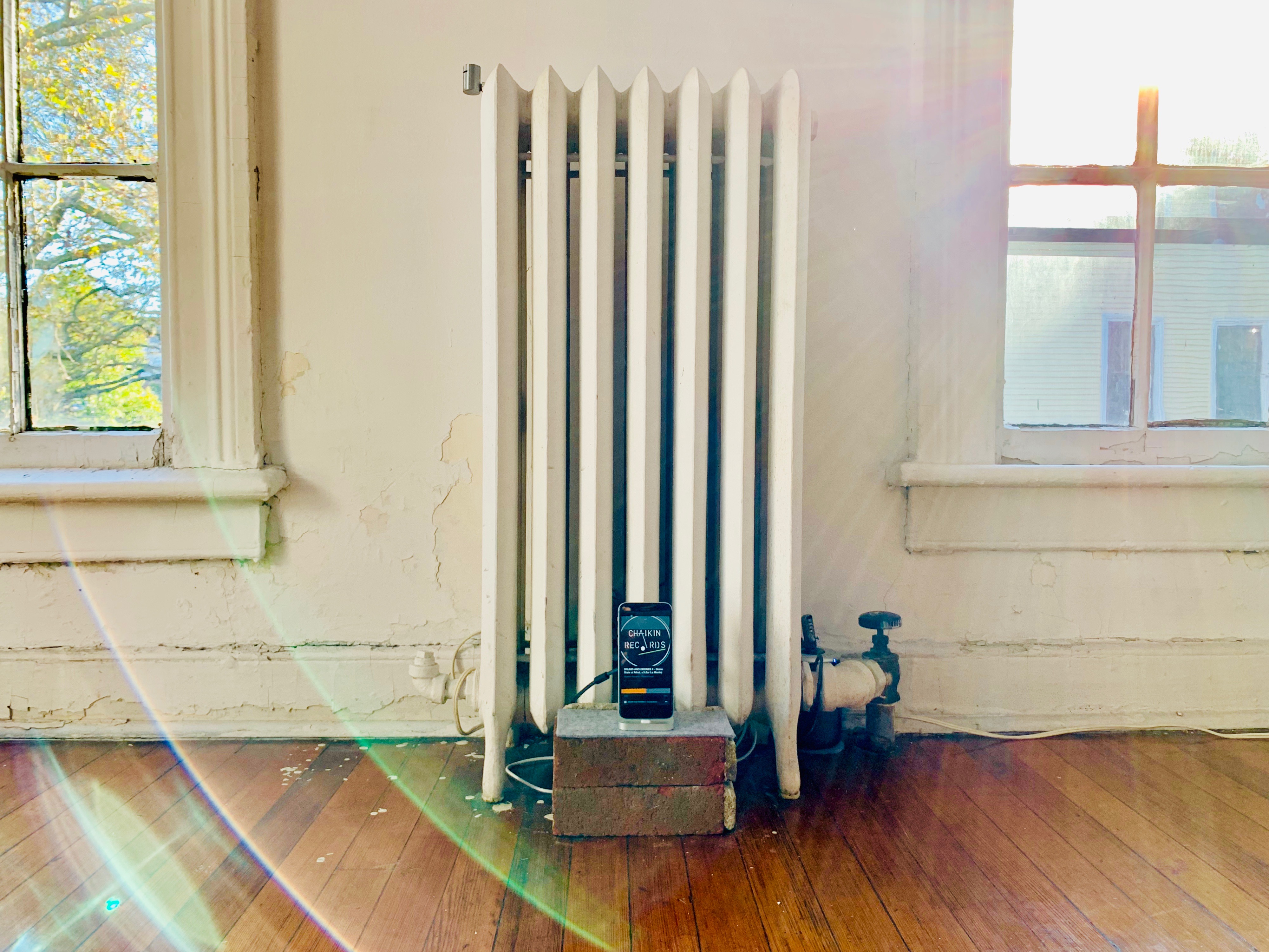 PROJECTS
Re: Poetics
With regard to poetics, a salon of readings, performance, thoughts, and discussion. Main room. Hosted by _______ Poetics.

Collidoscope
A performance of patchwork poetics, image constellations of the home, the tent, the boat, the voyage, the falling and flying body. By Miriam Parker in collaboration with Jo Wood-Brown and Christina Smiros.

Mindful Poetics
A space focused on intention for hemispheric balance in creative practice and non-judgmental, present time awareness of emergent creativity.

Not Not the End (of the World)
Poetic experiences concerned with how the double negative can inform our thinking on the end of the world. Projects include: Black Hole Meditations/Aggregations, Not Not a Field Guide to _______ Poetics, and Not Not Name Tags. By Kip Miller and Katie Willingham.

Something New
A series of Riso prints and chapbook by Seth Indigo Carnes.

Out Line

Ideas left out to dry. By ________ Poetics artists and the public-at-large.

Pharmakon
A poetic apothecary, by spontaneous appointment only. By Simona Blat and Seth Carnes.

The Warmest Zeroes
A cinematic poem and installation exploring intricacies of the South Asian diasporic experience within the matrix of femininity, cultural inheritance, and an emerging consciousness straddling dual experiences. By Khaula Malik and Jai Hamid Bashir.

A Few Hundred Yards Off

Liminal explorations of the gap between text and image, drawing from historical texts about Governor's Island, and re-contextualizing them with idiosyncratic imagery. By Charlie Stein.

Intonations

Patterns of emotional tone and attitude for the practice of mindful poetics. Playlists by Brian Chase and _______ Poetics.

Battle of Mind and Spirit
A selection of word and image works on paper and fabric, pairing text intuitions and visual intent. By Patrick Meagher.

Flux Poetics
An ongoing creation, installation and performance of poetics, vinyl cutups and free improvisation. By Seth Indigo Carnes, with guest performance by Patrick Golden.

Cooper Union Student Work
From a seminar taught by Ceren Bingol, and guest lecturers Seth Carnes and Simona Blat, 10 Cooper Union architecture students explore the intersection of poetics and architecture.
ARTIST BIOS

SETH CARNES

An artist with an interdisciplinary practice led by concept and process. His recent work explores the development of a mutable, semiotic visual poetry. Past collaborations include work with Shepard Fairey, The Roots, and Paul Miller (DJ Spooky). Carnes holds a BA from Pomona College and MS from NYU Polytechnic. He was born in the Napa Valley and is now based in NYC.

SIMONA BLAT
Poet, writer, artist, publisher. She holds an MFA in Poetry from Columbia University and is the publisher of The Brazenhead Review. Her writing's appeared in The Fanzine, The Brooklyn Rail, Hello Mr, Artillery, and elsewhere. She is the author of the chapbook, Funeral, and teaches Poetry, Creative Writing and Literary Magazine Production at NYU.

MIRIAM PARKER
Born in New York City, Parker began her career as a contemporary dancer, working with Sally Silvers, and Yoshiko Chuma and the School of Hard Knocks. She has traveled internationally as a dancer under the guidance of William Forsythe, Amanda Miller and Complexion. In the last decade, Parker began collaborating with visual artists to combine dance with the immersive methods of film, painting, and sculpture. In 2015, Parker received her Jivamukti Yoga certification in India. Her artistic practice then slowly evolved, and for the last years, she has been collaborating with painter Jo Wood-Brown, under InnerCity Projects. She also performed at Satellite Art Fair (2017), Fridman Gallery of NYC (2019), and did a week-long residency at Ecole Normale Superieure, Paris (2019).

BRIAN CHASE
Brian Chase is an American drummer and drone musician who plays in the New York rock band Yeah Yeah Yeahs. His diverse range of work includes rock music and within the community of the New York experimental music scene, and Drums & Drones, an electro-acoustic project focusing on the application of the just intonation tuning system to drums and percussion. Performances have taken him across the world, such as those from the Sydney Opera House (w/ Nick Zinner's 41 Strings and w/ Karen O's Stop the Virgens) to the UK's Reading and Leeds Festivals (w/ Yeah Yeah Yeahs) to Toronto's X Avant Festival (w/ Drums and Drones), and throughout NYC to such notable venues as The Stone, Pioneer Works, and The Metropolitan Museum of Art. Away from the drums, Chase is a regular practitioner of Ashtanga yoga.

CHARLIE STEIN
Charlie Stein (*1986) is an artist who deals with the existing diverse perceptions of cultural identities within the context of an assumed global society. Her material is often gathered through the act of conversation or research and is translated into drawings, installations, objects, paintings and text. Digital media, social networks and modern forms of communication are central aspects of her work, which she constantly renegotiates in her practice. She holds a Postgraduate Studies in Fine Arts from the Staatliche Akademie der Bildenden Künste where she studied at the classes of Christian Jankowski and Rainer Ganahl in Stuttgart, as well as the class of Gerhard Merz in Munich. She was a recipient of a DAAD scholarship in 2010 to reside in Beijing, China. Recent exhibitions include Manifesta11, Blackball Projects in New York, the Songjiang Art Museum in Shanghai and the 2017 edition of the Istanbul Biennial. Charlie Stein lives and works in Berlin.

PATRICK MEAGHER
Patrick Meagher (American, b. 1973 in New York) lives and works in New York. Patrick Meagher's art explores how the digital age affects us spiritually and emotionally. Working in computer-generated collage, photography, sculpture, and other media, his art asks how humans will evolve in an era of transgressive technology and increasingly virtual interactions. He is a co-founder of the Silvershed artist collective in Chelsea and of the Collective Show, an arts advocacy group Patrick studied Fine Arts at Carnegie Mellon University and did his masters of Landscape Architecture and Urbanism at Harvard University as well as studying at studied at the Kunstakademie Düsseldorf under Swiss artist Alfonso Huppi.

KATIE WILLINGHAM
Katie Willingham is the author of Unlikely Designs (University of Chicago Press). Her poems have also appeared in Iowa Review, Kenyon Review, Bennington Review, Diagram, and Grist, among others, and is forthcoming in the anthology The Mind Has Cliffs of Fall: Poems at the Extremes of Feeling, edited by Robert Pinsky. Her work has been supported by Vermont Studio Center, the Kimmel Harding Nelson Center for the Arts, and the Helen Zell Writers Program where she earned her MFA. She is the poetry editor for Michigan Quarterly Review and lives in Brooklyn, NY.

KIP MILLER
Kip Miller holds an M.F.A. in poetry from the Helen Zell Writers' Program at the University of Michigan, and has published poems and reviews in Indiana Review, West Branch, and others. She has created stop-motion films, including a Baltimore City Paper prize-winning piece. In 2018-2019 she developed an ecological puppet show as part of St. Ann's Warehouse's Labapalooza.

KHUALA MALIK
Khaula Malik is filmmaker and recent MFA graduate of the Feirstein Graduate School of Cinema at Brooklyn College in the midst of finishing a feature documentary film about a group of khwaja-sera (trans*) women in Pakistan. Her work explores the intersection of gender and identity, specifically examining the presence and significance of a community that has a been woven into the cultural fabric of the sub-continent. In this current work, she is inspired by the likes of Alma Ha'rel, Asghar Farhadi, Mohamad Hafez, and Pipilotti Riist.

JAI HAMID BASHIR
Jai Hamid Bashir is a Pakistani-American environmentalist, educator, and second-generation artist. Recently, she served as the writer-in-residence for Summer 2019 at HESSE FLATOW in Amagansett, New York. NOCTURNA, a multidisciplinary performance and happening she co-wrote, was performed in September 2019. The winner of an Academy of American Poet's University Prize, they have also been published by Asian American Writer's Workshop, Palette Poetry, Sierra Magazine, and have work forthcoming from The American Poetry Review. Hamid Bashir holds an MA in Environmental Humanities and is currently an MFA student at Columbia University in the New York City, where she is the recent recipient of the Linda Corrente Memorial Poetry Prize.

THE LATEST
NEWS
Join our mailing list to hear the latest.